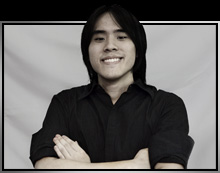 Hello there. My name is Robin James Yu. My friends call me RJ. My fascination with the world wide web began when I was 12 years old. I created my first website back then and quickly moved into
Adobe Flash
and other technologies. I've never looked back ever since and the web has been my playground growing up.
I enjoy well planned, executed and presented design along with a healthy dose of well-developed technology and systems that utilize cutting-edge technology. I strive to bring a creative energy to every project I handle, never settling for simply "good enough." I equally enjoy both front-end user interface design and back-end development as I believe both work hand in hand to deliver the best product out there.
I graduated with a Bachelor in Computer Science with Honors from the
Ateneo de Manila University
and worked immediately after for more than a year at a local
web company
specializing in web 2.0 and mobile technologies. Today I work as a freelance web designer and developer based in the Philippines.
In my free time, I enjoy volunteering at
Christian churches
and
organizations
, playing sports, hitting the gym, initiating my own business ideas, and enjoying life. If you wish to contact me for projects, please use the contact form on the right.
EXPERTISE
DESIGN

Adobe Creative Suite - Photoshop, Illustrator, Flash, Fireworks, After Effects, Premiere

Adobe Lightroom
DEVELOPMENT

Standards-based XHTML and CSS

Javascript, PHP, Actionscript

Drupal, Wordpress

Code Igniter, CakePHP

Erlang, C++, C#, Java